About us
Located right in the heart of Falcon, Spicy Flavours Indian Restaurant offers a tantalising selection of Halal, Indian dishes, including Butter Chicken, Lamb Rogan Josh, Chicken Vindaloo and Vegetable Biryani. Customers regularly munch on our tasty desserts such as Gulab Jamun, Rice Pudding and Carrot Pudding. Try the Mango Chutney or Onion Salad with your meal, you'll surely love it. Spicy Flavours Indian Restaurant is a great place to enjoy a nice meal, as well as outstanding service. Whether you want a carry-out or delivery, choose the online ordering option for faster service.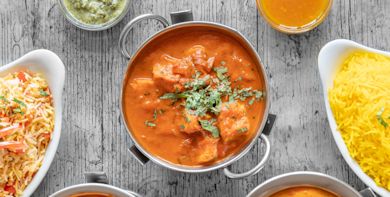 Reviews
Michelle
"Delivered prompt politely and food was amazing. Definitely going to order from here again In the future"
2/11/2019
Nicola
"Great food and prices! Love Spicy Flavours"
2/11/2019
Lesley
"Great service and food"
30/10/2019